In one of our most recent machine sales, we provide an efficient, automated sorting solution for one enterprising oyster nursery based in North Carolina.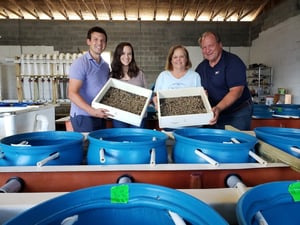 SMYRNA, NORTH CAROLINA – Down East Mariculture is a family-owned Oyster Nursery based in North Carolina. The business was established in 2015 by Susan Fulcher Hill, a lifelong native with a vision of restoring the enterprise of the coastal community she had grown up in and cherished. The Hill family – Susan, Robert, son John and his wife Arianna – set their sights on renovating a building that had once housed Willis Brothers Seafood Inc., a once-thriving clam and scallop processing business that had been shuttered since the late '70s.
Dilapidated and fallen into disuse since 1980, the Hills certainly had their work cut out for them but rose to the challenge of revitalizing the historic landmark. Today, the Hills produce millions of oyster seed each season and have plans for an Oyster Hatchery that will be fully operational this spring.
When John reached out to us earlier this year in search of a more effective, less manual means of sorting their oyster seed, we were more than happy to put our decades of experience in the industry to good use. We've partnered with countless oyster and clam hatcheries over the years, providing sorting solutions that blow traditional manual screening methods out of the water. In the words of Bill Mayer, Owner of Clam Daddy's down the shore in Brigantine Bay, New Jersey: the Kason screener "not only does in minutes what used to take hours but allows me to deploy my staff to perform more important operations." (Read more here)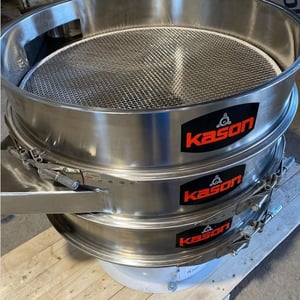 Our engineering team custom-designed a VIBROSCREEN circular vibratory screener to meet the Hills' goals of more efficient sorting operations. The 30" two-deck, high-efficiency unit is durable and efficient, built to classify oyster seeds in a fraction of the time.
Earlier this month, the screener made its way to its new home Down East. We're happy as clams – er, oysters? – to hear that the Hills are looking forward to their first sort with their new screener, and we wish them all the best with their booming business!
PO Box 421, Smyrna, NC 28579
Machine Specs
VIBROSCREEN

Circular Vibratory Screener
Two-Deck Configuration
Food-Grade Finish
304 Stainless Steel Material of Construction
K-DURA

High-Performance Standard Stainless Steel Screens

Interested in improving your operations with a Kason? Click the button below to reach out to our engineering team, or give us a call at 973-467-8140.
Related Resources
NEW Video: Sorting Oyster Seed with Circular Vibratory Screeners
Vibratory Screener Helps Raise Littleneck Clams | Clam Daddy's
Aquaculture Center Switches to Vibratory Screening of Oysters | AIC - Rutgers University