Consumers seeking healthier snack options or better-for-you plant-based proteins have been steadily increasing the demand for nuts for decades. There are more than 20 types of edible nuts in the world, with a market value estimated to reach USD 2.0 billion by 2025 on a global level. Varieties can include almonds, peanuts, walnuts, pecans, pine nuts, macadamias and more. Each type of edible nut and each stage of the supply chain from "farm to fork" requires sorting to help process this commodity with the goals of meeting size, quality and purity standards, all while maintaining high throughput.
Nut processing requires durable vibratory sorters with multiple screen sizes to help growers, packers and processors meet their production goals while adhering to food safety standards. Companies can reach their goals of eliminating waste and maximizing profit potential with nut sorting equipment from Kason, relying upon its decades of experience in the food processing industry to help guide selection and optimize processing efficiencies. While many of Kason's industrial processing equipment can be used in nut processing, Kason's VIBROSCREEN circular vibrating screener is the model most often utilized for the industry.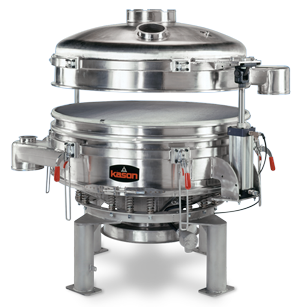 Vibrating Screen for Sorting Nuts According to End-user Applications Achieving Essential Durability and Food Grade Quality
Nut processing or sorting begins in the field. During nut harvesting, the sorting equipment can separate nuts from foreign and unwanted debris, such as twigs, stones, leaves and even dust.
Once the nuts are dried in preparation for cracking, the outer shell or hull must be separated from the nutmeat and the nuts sorted according to size. Although the U.S. grade standards for nuts are voluntary, it provides the industry with a common language for classifying nuts according to size and color, among other specifications. The size helps determine the end use or application for the nut.
Packers or copackers might package whole nuts according to individual variety, or as part of a snack mix, blend or trail mix. In this instance, the packers typically want to eliminate dust, crumbs and fines or broken pieces in preparation for packing. In addition, whole nuts are "graded" according to size and quality, with larger nuts often commanding a greater price.
Bulk suppliers will typically separate the nuts into whole nuts, halves, splits, butts (cashews) or pieces, depending on end-use application. The nuts might undergo further processing such as roasting or an applied confectionary coating, requiring sorting both prior to and after coatings are applied.
Baked goods, ice cream, confections and cereals often utilize nut halves, splits or pieces. A whole nut usually is not required, but part identity helps lend extra value to the end product.
Nuts destined for use in nut butter need to have the skin removed before grinding, and nut sorters can also help with this process. For example, roasting a peanut loosens the outer skin and the Kason VIBROSCREEN easily removes the skin to free the nuts for further processing.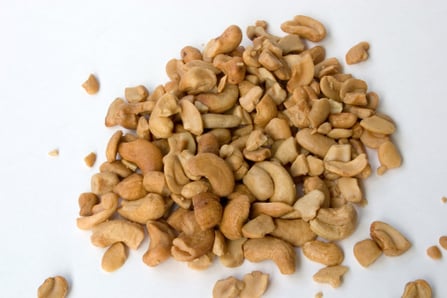 Achieving Essential Durability and Food Grade Quality
The quantity and weight of the nuts demand a durable processing machine to increase the return on investment for the capital outlay. Depending on the processing stage, a perforated plate can supply a sturdy and durable sorting element during the initial nut entry to better withstand the impact of whole nuts entering the sorter. The perforated plate has a stagger, allowing for excellent separation and nut sizing. Later, a mesh screen is used to remove fines, crumbs, or dust in the processing stream.
As with any food processing, thorough cleaning is a top concern. Kason relies on stainless steel construction coupled with a circular sorter design to enhance system hygiene by facilitating easier, more thorough cleaning cycles. We produce all our food processing screens and equipment so that all contact parts are fully compliant with FDA, USDA, 3-A, BISCC, and other stringent US and international food safety standards. Furthermore, the circular design helps eliminate problems associated with box-style sorter, such as material buildup within the sorter and corresponding microbial growth.
Screen Options for Optimizing Nut Processing
Kason offers the widest selection of screening and processing equipment, from basic sorter to more sophisticated, high-capacity systems. In addition to its standard line of equipment, Kason can customize or modify an existing design to fit the end user's desired specifications.
One example of customization is to configure multi-deck screeners to contain up to four screens. This separates the product into five different fractions or sizes in the same pass, saving time and increasing throughput. This multi-level screening can separate whole nuts from halves, fractions and fines.
In addition, the automated system helps reduce labor dependence. This supplies a critical competitive advantage in today's tight labor market. Where once multiple workers would work on sorting products on various parts of the processing line, all sorting can now be easily automated.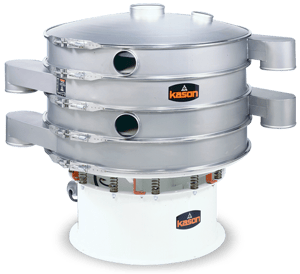 Patented Airlift System Makes Changeouts Easier and Faster
Kason equipment is engineered to offer technological advantages that offer operators greater efficiencies and easier operation.
The airlift quick screen change system features air cylinders that allow operators to gain access to the unit's interior for cleaning or inspection much faster than with comparable systems that require manual adjustment.
The entire raise/lower cycle, including a quick disconnect/connect of the frames, requires just minutes compared to lengthier manual changeouts. This reduces downtime during every inspection, cleaning or screen changing, and supplies greater safety and security for the operator, along with advantages for:
Changeouts

Clean-in-Place (CIP

)

Screen inspection

Maintenance
While able to handle a wide range of capacities, the VIBROSCREEN from Kason generally occupies a small operating footprint. Unit sizes range from 18 to 84 inches in diameter. Kason uniquely can fabricate a 100-inch diameter unit as a custom option to handle large volume operations.
Free Lab Testing
Finally, as another unique service offering, Kason Corporation supplies customers and prospects with free lab testing on its full range of processing equipment, such as the circular vibratory screeners on either single or multiple decks.
The test lab equipment can be configured to simulate a customer's installation and run trials on the actual materials. This can generate test results and allow engineers to custom tailor recommended solutions for machinery that will best handle the application scenario. If you are interested in trying new options to streamline production, ease labor requirements and optimize profit potential, our test lab can get you started.
Kason Application Engineers are Here to Help Find the Right Equipment
Nuts present an affordable, storable, transportable and reliable source of protein with a consumer demand that is only expected to grow. The time to take advantage of the nut processing market and bring your nut sorting to the next level is now, with the best nut sorting equipment available. Contact us to talk to our engineers about the VIBROSCREEN for nut processing and other food processing applications.
Nut Conveying Systems from Cablevey
Cablevey Conveyors, a company owned by the same parent company as Kason, also specializes in processing equipment for the nut industry. To learn more about Cablevey solutions in enclosed tubular drag cable and disc conveyors for nut processing, visit https://cablevey.com/tube-conveyor-uses/nut-conveyor-system/