Did you know that Kason offers a wide array of designs and options with our K-SERIES replacement screens? From standard high-performance designs to heavy-duty rings, finishes to comply with global safety and sanitary standards and more – we take pride in engineering and manufacturing screens with enhancements and features that will meet your specific application, material, and business needs.
Whether you're considering your options for a new unit, modifying what you use on your existing Kason, or if you are considering our screens for another make or model of circular vibratory screener or centrifugal sifter, we are proud to offer a number of options to help you meet your screening goals.
Read on to learn all about our durable, efficient, endlessly customizable K-SERIES screens.

K-SERIES Screens for Circular Vibratory Screeners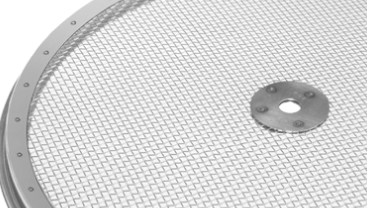 K-DURA: The High-Performance Standard Screen
Our K-DURA circular screens for circular vibratory screeners are general-purpose, high-performance standard screens. Available in weld-mounted and epoxy/adhesive-mounted styles, an unsupported stainless steel screen ring is finished with your choice of mesh type and size. Additional specifications like center holes and center plates or silicone seals are available to best suit your machine and application needs.
K-DURA round screens are utilized in a wide range of applications, including but not limited to:
K-STRONG: The High-Strength Supported Screen
Our K-STRONG round screens set us apart from our competitors – if you are looking for a screening solution for demanding, heavy-duty applications, look no further. Whether you're looking to handle high material loadings or dense materials on finer-mesh screens, or if you need to reinforce larger diameter screens, K-STRONG is the choice for you. Our standard screen rings are reinforced with custom-fabricated support structures, ranging from one up to eight arm supported designs.
K-STRONG circular screens can be utilized in a wide range of applications and industries, from food processing to screening nylon polymer pellets, chemicals and more.


K-SANI: The Durable Sanitary Screen
Our K-SANI circular screen line is ideal for industries where stringent sanitary and safety regulations must be adhered to. These screens are custom-manufactured and finished to standards such as 3-A, FDA, USDA, BISCC, and cGMP. K-SANI is a good fit for those processing foods, pharmaceuticals, nutraceuticals, or handling other consumables where sanitation is of utmost importance. Whether you are looking to sift flours, pharmaceuticals or dairy powders, you can count on K-SANI round screens to safely and efficiently process your product.
To guarantee your screen's compliance, Certificates of Conformance and/or Material Safety Data Sheets (MSDS) are available upon request.
K-KLEAN: The High-Strength Self-Cleaning Screen
Processing materials that tend to blind standard screens? K-KLEAN round screens, equipped with anti-blinding devices might be a good fit for you. Screen blinding can be caused by near-size particles clogging the apertures on a screen, fibers stapling around the wires on a screen, or by resinous, fatty, oily, or similarly viscous deposits cover the screen's mesh.
K-KLEAN circular screens feature plastic rings or sliders which, when in operation, vibrate against the screen mesh and impart low-impact, high-frequency pulsations. This screen design maintains screening efficiency with minimal disturbance to the movement of the material across the screen.
For more information, explore our review of the types and functionalities of anti-blinding devices.
K-PERF: The Ultra-Durable Perforated Plate Screen
If you're looking to minimize the passage of long particles, or if you're simply in search of a screen that will outlast the most durable screen mesh, look to K-PERF circular screens for your application.
Comprised of a perforated plate mounted onto a screen ring, these round screens have been utilized in a wide range of applications such as cannabis bud sorting, screening overs and fines from pellets, and more.

K-SERIES Screens for Centrifugal Sifters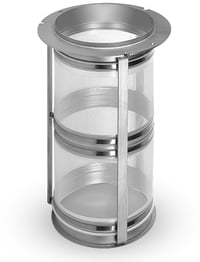 K-CENTRI: The High-Performance All-Purpose Screen Cylinder
Available with either synthetic mesh or wire mesh screens installed on metal screen baskets with hose clamps, these general-purpose screens are equipped to handle a wide array of centrifugal sifting applications. Our K-CENTRI centrifugal screens are built for sifting and screening a wide range of materials – just some examples include:
Screening powdered pharmaceuticals

Scalping food ingredients such as soya flakes

Sifting powder coatings
Food-grade seals or magnetic mesh options are available for food, pharmaceutical, and other applications that must meet stringent sanitary and safety protocols.
K-DURACYL: The Ultra-Durable Wedge Wire & Perforated Plate Screen Baskets
Satisfy the most demanding sifting applications with our K-DURACYL wedge wire and perforated plate screen baskets. Our wedge wire screen baskets can withstand the most challenging applications without running the risk of blow-outs or screen failures.
From dewatering spent grains for distilleries to handling agglomerates such as beverage powders, screening bread flours and more, our K-DURACYL wedge wire and perforated plate screen options are the workhorses of our centrifugal screening options, built to outlast traditional wire or synthetic mesh screens in centrifugal sifters.
Not a Kason? Not a Problem!
Aftermarket Support for Virtually Any Make or Model of Vibratory Screener or Centrifugal Sifter
Our K-SERIES screens and genuine aftermarket parts are compatible with most any round vibratory screener or centrifugal sifter currently on the market. The service team at Kason is always more than happy to provide custom-tailored consultation services and hassle-free quick quotations on spare parts best suited to your machinery and application needs.
Whether it's a Kason unit or not – our ultimate goal is to provide you with the best screening and processing solutions for your business.
Conclusion
With all of the different options and enhancements available at your disposal, our range of K-SERIES screens are built to suit your application needs.
If you'd like a consult to determine what K-SERIES screens will best accomplish your goals, our team of engineers, technicians, customer service staff, and local sales reps are available to help guide you through the screen selection process and ensure the screen you purchase today will serve you and your business tomorrow and beyond.