When it comes to pet food production, the pursuit of excellence is paramount. Every kibble, treat, and meal that reaches our pets' bowls should present the highest quality, nutrition, and safety standards.
This journey begins long before the pet food reaches the packaging stage, with the careful selection and use of the right processing equipment.
Whether you're a pet food company aiming for excellence or a pet owner seeking confidence in your product choices, this blog serves as your guide to comprehending the superior position of Kason products in the realm of pet food processing.
A Blend of Innovation and Expertise
Boasting a history of nearly five decades, Kason stands proud as a pioneer in producing advanced screening and processing tools that adhere to the highest levels of safety, quality, and hygiene standards.
Kason has established itself as the go-to provider of custom processing solutions for various industries looking for dependable solutions to their complex processing needs.
No matter the nature or scale of the task, Kason's expertly crafted equipment, fortified by in-depth process insights, consistently delivers exceptional performance.
Be it a simple operation or a multifaceted process, low or high capacity, or requiring sanitary or industrial-grade equipment, Kason's solutions handle it all.
Precision-Engineered Solutions for Diverse Processing Needs
Kason specializes in advanced screening and processing machinery, ranging from standard sifters to custom-designed high-capacity systems.
Serving businesses all over the world, Kason offers adaptable solutions for diverse industrial processing needs. The Kason Advantage is tailored to address specific processing challenges, emphasizing reliability, efficiency, and cost-effectiveness.
For tasks that include solid-solid or solid-liquid separation to drying, cooling, or moisture adjustment of bulk materials, Kason delivers precision-engineered solutions.
Optimized Equipment for Exceptional Pet Food Processing
Kason leads the forefront of pet food production solutions with a wide range of screening and processing tools. Catering specifically to the distinct needs of pet food manufacturers, our lineup stands out among the competition with the following:
Vibroscreen - suitable for varying production scales, these screeners, available from 18 to 100 inches, offer a closed, dust-free setup ensuring hygienic production. Their compact footprint combined with energy-efficient operations makes them a cost-effective choice.
Centri-sifter - designed to tackle materials that tend to clump, these sifters guarantee a dust-free output with minimal maintenance. Their robust build, low energy consumption, and easily accessible cleaning (inspection) doors make them ideal for both continuous and batch pet food processing.

Vibro-bed

- a masterclass in fluid bed processing, this solution excels in drying, cooling, and moisturizing within a confined space. Available in three models and different stainless steel variants, they take advantage of gentle vibrations and controlled airflow to expedite the processing of pet food ingredients.
Together with Kason's sister company Marion best known for its mixers, the pet food processing industry can enjoy a seamless integration that will consist from best of both worlds.
Understanding Unique Requirements and Bringing Custom Solutions
What really sets Kason apart from the competition is our dedication to crafting solutions that align perfectly with the distinct needs of pet food manufacturers. Drawing from a vast reservoir of experience in serving global markets, Kason understands that the one-size-fits-all approach often falls short and doesn't offer appropriate solutions.
Diversity in Design
Unlike other companies that offer a universal screen for different applications, we take pride in our broad array of screens, each carefully designed for a specific purpose. This dedication ensures that each client receives equipment that's optimized for their unique needs.
Case in Point - Supersweet Feeds Challenge
Highlighting Kason's adaptability and solution-centric approach is the Supersweet Feeds Division of Robin Hood Flour Mills Limited. Faced with the challenge of classifying pellets and crumbles at their Quebec City Plant, their goal was ambitious - process 16¹ tons of feed per hour through a 100 hp California floating die Pelletizer.
However, conventional screen classifiers were not up to the task. Additionally, they needed a singular classifier, strategically positioned on a five-story building's top floor to minimize vibration implications on the foundation.
In response to this complex challenge, Kason rolled out a fitting solution - two Vibrating Screen Separator units. The Scalper was introduced to refine and prep the feed material for the pelletizer.
In conjunction, the Classifier adeptly managed the sorting of pellets and crumbles at the desired capacity, eliminating the need for continual tweaks and adjustments. This solution managed to boost the company's production efficiency.
Peak Efficiency in Processing
Pet food typically incorporates a mix of cereal grains, meat, fish meals, fat, minerals, and vitamins.
To ensure the consistency and safety of the end product, these dry ingredients need to be carefully sifted and screened, allowing for uniform particle size and the removal of unwanted clumps and foreign materials.
However, without the right equipment, the quality of the pet food and the brand's reputation can be jeopardized.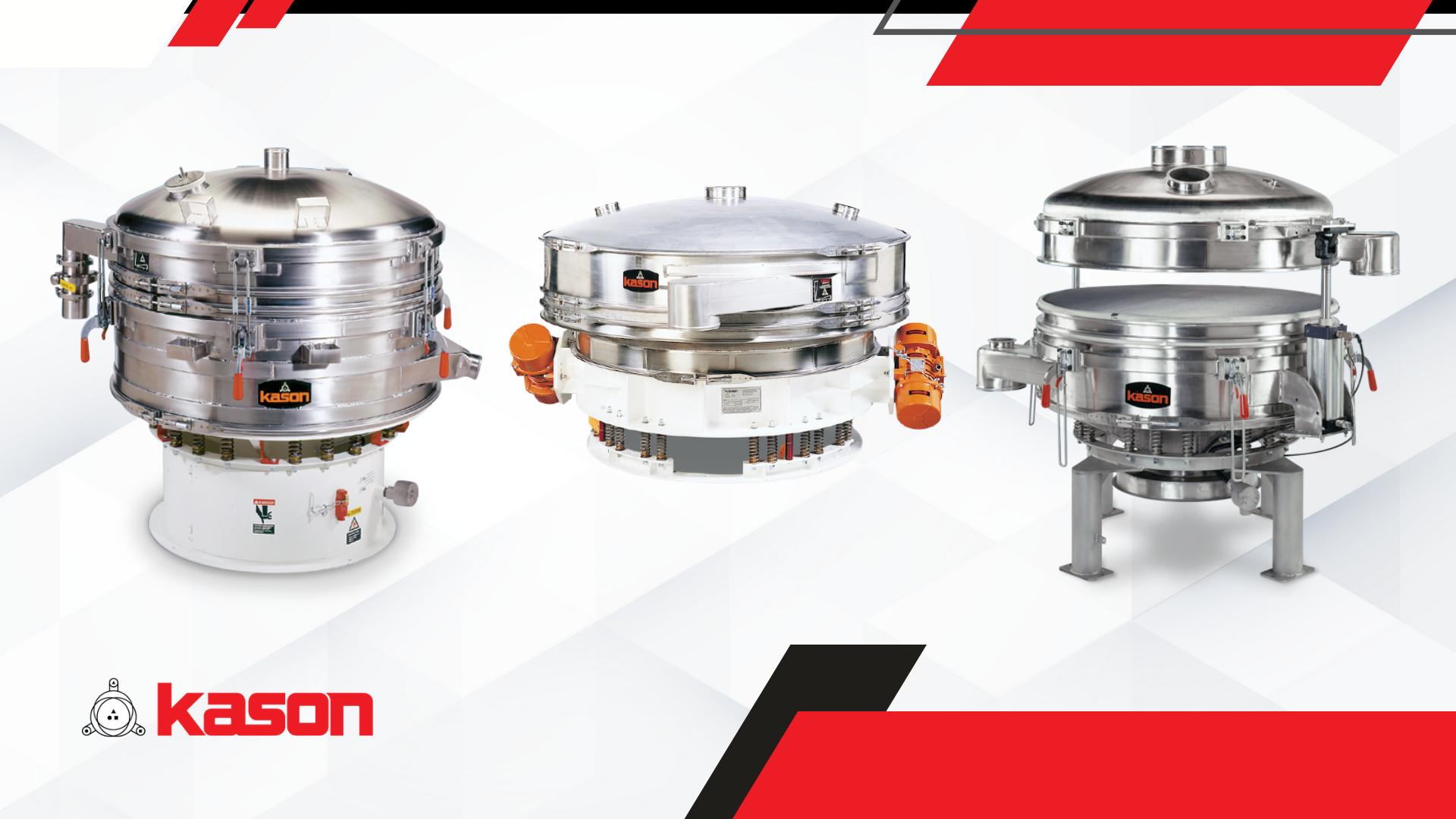 How We Can Help
Kason's lineup of vibratory screeners, sifters, and separators are crafted to process a myriad of materials, ranging from dry solids to solids-filled slurries. This makes them particularly suited for the sophisticated blend of ingredients found in pet food recipes.
As an example, Freshpet, a premium processor of refrigerated dog food with headquarters in Quakertown, Pennsylvania, encountered difficulties with the manual screening of dry ingredients for their products, which led to production bottlenecks, variable ingredient quality, and issues with heavy lifting.
Freshpet purchased Kason's Vibroscreen Low-Profile Flo-Thru screener to solve these problems, greatly improving efficiency and cutting screening time from an hour to just 10-15 minutes.
Their production bottleneck issues were eliminated by this improvement, which also enhanced the entire production process.
Dedication to Quality
Kason's dedication to high quality standards shines through our thorough engineering and robust inspection processes. This not only ensures superior quality but also strict adherence to all regulations.
Its food processing screens and equipment are crafted in alignment with rigorous food safety standards, including compliance with FDA, USDA, 3-A, BISCC, and other international guidelines.
It's noteworthy that all components interacting with food are compliant with these standards, underscoring the company's unwavering commitment to safe and compliant operations.
Furthermore, Kason's designs are crafted with ease of maintenance and cleaning in mind, further reinforcing its dedication to performance, safety, and top-tier quality.
Revolutionize Pet Food Production With Kason and Marion
Over the course of many decades, both Kason and Marion have solidified their standings as innovators and reliable allies in the pet food production journey.
Kason is celebrated for revolutionizing ingredient preparation with advanced screening and processing equipment.
Simultaneously, Marion stands out as a global frontrunner in crafting mixers, blenders, thermal processing tools, and size-reducing machinery.
Together, we offer a range of solutions that cover all aspects of pet food processing, from the initial raw material phase to the final product refinement.