Shellfish hatcheries and nurseries have long relied upon traditional means of sorting their seed oysters and seed clams, sifting their bivalves by hand using wooden boxes equipped with mesh screen bottoms.
However, as market demand increases and enterprising businesses look to expand their outputs and streamline operations, a need has emerged for more automated sorting solutions. At Kason, we've had the pleasure of working with and providing commonsense solutions to those in the aquaculture industry.
"It took all day for a three- or four-person crew to complete each round of sorting." Bill Mayer, Owner - Clam Daddy's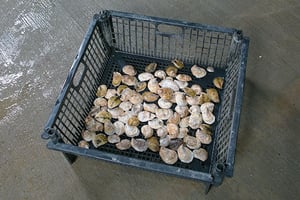 When clients in the aquaculture industry approach us for sorting solutions, this is usually how the conversation goes. Resourceful business owners, tired of time-consuming and labor-intensive manual sorting of their seed oysters or clams, know that there has to be a better way to process and sort their shellfish. With our extensive experience within the industry, we have the knowledge and engineering capabilities to provide quick, efficient solutions that are as no-frills or as complex as needed.
Streamlined Sorting Solutions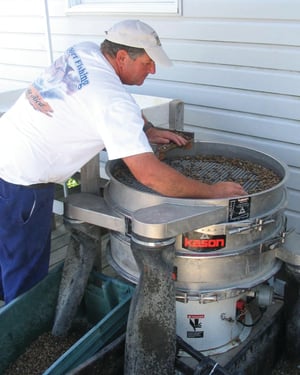 VIBROSCREEN circular vibratory screeners have shone as effective and reliable alternatives to grueling manual sorting of shellfish. Just some of the reasons why our customers in the industry have welcomed Kason into their operations include:
Efficiency We think Bill Mayer said it best when extolling the virtues of his own sorter:
"It not only does in minutes what used to take hours, but allows me to deploy my staff to perform more important operations."
Durable Minimal maintenance and operation is the name of the game when it comes to our sorting solutions. When we build our units, the intent is to make your operations as effortless as possible. The heavy-duty easily maintained and operated design of the VIBROSCREEN means it will be working right alongside you season after season, without fail.


Mobile The vibratory screeners we typically recommend for the sorting of clams or oysters are 30" (762 mm) diameter models, though we are able to scale up or down to meet processing needs. This compact footprint and size make our sorters easy to relocate to wherever it needs to go to get the job done. For added mobility, our units can be situated on mobile carts. With its plug-and-go design, your unit is ready to get to work when you are.


Scalable Our vibratory oyster and clam sorters are generally sold as single- or double-deck models, equipped with customizable screens in a wide range of mesh sizes, types and designs. Retrofitting options are available to add additional decks to existing units, giving you the ability to support your flourishing business as sorting demands increase.


Customizable At Kason, our goal has always been to design the unit that meets customers' unique needs – not trying to crowbar in solutions. We offer standard, off-the-shelf designs, of course, but we are also more than willing to work with you for built-to-spec machinery that will best serve your operations. Just some of the optional features you can add onto your sorter include:


Clamshell Lid & Quick-Acting Clamp Rings

| quick, tool-free screen changes

Corrosion-Resistant Stainless Steel Construction

| stands up to saltwater exposure

Lockable Caster Wheels

| portable

Spare Screens

| different meshes for different classifications