Screen failures can be caused by a number of factors. Just some of the reasons that we'll cover today include screen fatigue, improper installation, corrosion, shock, and abrasion. Understanding why screens may fail will enable you to proactively inspect, maintain and replace your screens long before you find yourself in a downtime scenario.
Top 5 Reasons for Screen Failures
1. Fatigue


Did you know that approximately 90% of screen failures that we have seen in our decades of experience are caused by fatigue? Screen fatigue can occur for a number of reasons – ultimately, all are linked to rapid and repeated flexing of the screen mesh.
The best visual indication of screen fatigue prior to failure is a floppy screen (see below).
If you are examining your screen post-failure, look for rounded wire ends with a dark color: this is characteristic of a screen that was damaged as a result of fatigue.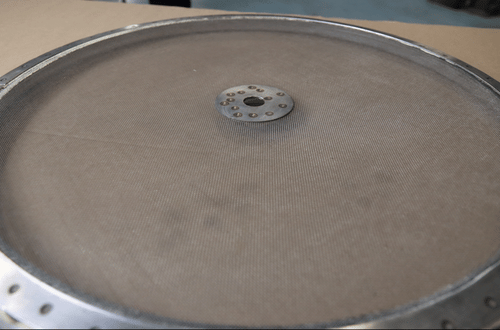 The best visual indication of screen fatigue is a floppy screen.
Your Best Defense: A Properly Tensioned Screen
To combat screen failure due to fatigue, proper screen installation is critical. Experience shows that there is exactly one right way to install a screen:


Tighten the screen ring clamps. Loose clamp rings can cause screen rotation, which results in your screen losing tension, flexing during vibration and – ultimately – failure.
If you find that standard clamp rings are cumbersome or if you need to carry out frequent screen changes, quick-disconnect models are available.
Draw tension to the center post. This is especially important for fine mesh screens.
Screens must be properly tensioned in order to function as they should.
Interested in a step-by-step tutorial on screen installation for your circular vibratory screener? Check out this helpful how-to video from our Video Gallery!


Fatigue-based screen breakage can also stem from wear caused by anti-blinding devices. When Kleen-Screen Rings – plastic rings that are continuously moved by the multi-plane inertial vibration of the screener – experience jamming, the mesh face of the screen repeatedly vibrates over the ring until flexing leads to breakage. To spot this type of failure, be on the lookout for a circular imprint on the underside of the screen.
A Kleen Sweep rubber wiper is another anti-blinding device designed to prevent blinding caused by resinous or fatty materials. However, the wipers can also cause screen failure if not properly installed, used and monitored: when properly functioning, the wipers will continually sweep across the top of the screen and ensure maximal throughput. Installed incorrectly, the wipers may jump and bounce on the screen. The resulting flexing can lead to fatigue and breakage if not caught in time.
Another cause of screen fatigue is an accumulation of material commonly referred to as rope. Heavy accumulations of material move around the periphery of the screen, constantly pound and wearing down on the screen until failure results.
2. Improper Installation


Left: A properly installed screen, flush with the discharge port. Right: A screen installed upside-down - a 1" ridge along the perimeter prevents material discharge.
When installing your screen, take the time to ensure you're loading it into the machine with the correct side facing upwards. When a screen is placed in a VIBROSCREEN unit upside down, there will be a one-inch ridge along the perimeter of the screen. Material will not discharge as intended, instead accumulating on the screen. If not caught in time, your screen will inevitably fail from too much material build-up.
In addition to correct orientation of your screen, you must ensure any necessary gaskets are installed on your screens prior to running and operating your unit. In certain models, failing to equip your screen with a gasket can result in the screen's center hole hitting the center threaded rod. Ultimately, this repeated agitation will dislodge the center plate, resulting in damage to your screen.
When you order a genuine Kason K-SERIES replacement screen, it's shipped with the appropriate gasket installed, free of charge – you're ready to unbox, install and go. Beyond our standard FDA-approved white neoprene A-gaskets, we offer a range of different materials of construction and screen gasket designs to meet your unique needs.
Not sure about the gasket requirements of your specific machine or application?

3. Shock
Shock is another common cause of screen failure. Post-failure, you will generally see rounded wire ends with a distorted surface around the area of impact. Extraneous materials that enter with infeed, for example, may result in substantial impact that can separate or tear wires on the face of your screen. Dropping hand tools on your screen during installation can also result in damage. Another (literal) misstep that we've seen in our years of experience is when people accidentally step on their screens!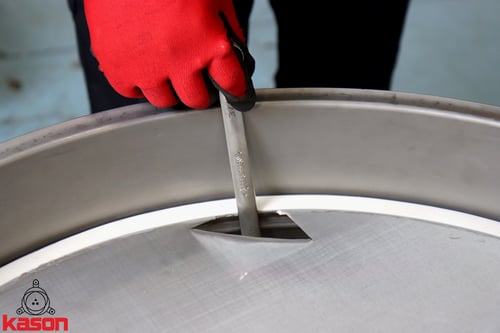 Shock is another common culprit behind screen failure. Shock can be caused by heavy objects (like a wrench, pictured) hitting the face of the screen.
Constant vigilance is key in avoiding shock-based screen failures, but it's also important to prepare for the worst-case scenario by always keeping a spare screen on hand. Human error happens, but it doesn't have to be the cause for costly and lengthy downtime.
4. Corrosion
Our sifters and screeners are built to handle a wide array of materials, including those with corrosive qualities – but even the most heavy-duty screens will need replacing eventually. Typically, corrosion-caused breakage visually presents itself in wire ends that show a reduced diameter and discoloration. Failure due to corrosion can occur anywhere on your screen, but you'll most likely see it happen near the edges in applications where material builds up near the edge of the screen.
The best way to avoid screen damage from corrosion? Use the appropriate screen material for the product you are processing on your unit, and take the time to routinely inspect your screens for signs of wear between uses.
5. Abrasion
The fifth and final reason for screen failure we'll cover in this post is screen damage caused by abrasion. Abrasive materials, high feed velocity, material overload on the center or periphery of the screen or even repeated manual scraping or brushing of the mesh can all lead to abrasion-related failures. Abrasion is exacerbated when materials being screened are moist or wet, as it will not fluidize in the way that dry materials will.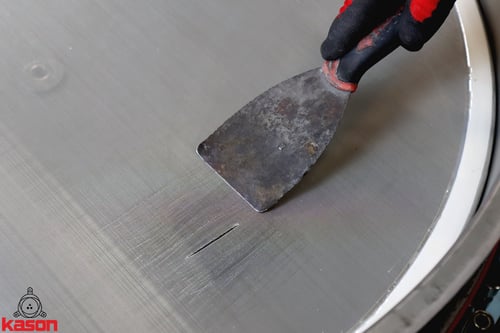 Never use metal tools or steel brushes to manually clean your screen. This can lead to manual abrasion and tears.
What does this form of screen failure look like? If you notice that the wires near the tears look polished and shiny with flat ends, abrasion is your main culprit.
Kason developed high-capacity KASCADE Internal Recycle screening decks – either as part of a new unit or as a retrofit kit – that operate in conjunction with conventional screening decks to prevent rope and boost capacity by 60-160%. However, before taking this step, check to see if your eccentric weight setting can be adjusted to move material on the screening deck more efficiently. View our tutorial video on how to change weight settings for more details, or reach out to us for troubleshooting assistance.
Conclusion
By adhering to proper screen installation, throughput management, and routine screen inspections at your facilities, you will be able to maximize the longevity of your screens and prevent screen breakage from occurring – along with any resulting costly downtime. If your screen does break, determining the root cause will help you avoid repeated failures in the future.
Don't forget: our team of engineers, technicians, customer service staff, and local sales reps are all here to support you and your business! If you just can't seem to pin down the reason for your screen failure or if you're interested in exploring our range of K-SERIES screen designs or wide array of screen mesh offerings, reach out to us – we're here to help.